Have you got a lot of email accounts, and now you are fed up with checking them all the time? There is a solution that can save you time and help you manage your numerous email accounts.
This is Gmail
What sets it apart from the rest is its function to transfer all emails from other email clients.
In this article, you are going to learn how to implement migration of emails from all your addresses. As a bonus, you will learn an alternative way to manage your correspondence and emails addresses that perfectly suits your business or work.
How to set up import from other email clients in Gmail?
Click the Settings icon and in the drop-down menu choose Settings. Press the Accounts and Import Tab. And in the section Import mail and contacts, click Import from another address. In the newly opened window, fill out an email address. In the new window – Continue. The Gmail ShuttleCloud Migration asks you to choose an account whose emails you'd like to import and asks permission to access it. After clicking Allow, check or uncheck Import options and lastly press Start import. A few seconds later, you've got a message about the successful Migration.

Afterward, you will start receiving emails from your other account, and they will be labeled by the name of your imported email.
To import emails from other clients, just follow the previous steps.
How can I send emails from different email addresses on the same Gmail account?
When you are composing an email, in the field From, choose one of the imported email addresses.

However, there is a more comfortable free tool, especially designed to work with Gmail. It is Friday CRM. It will enable you to manage your correspondence and email clients in more comfortable way.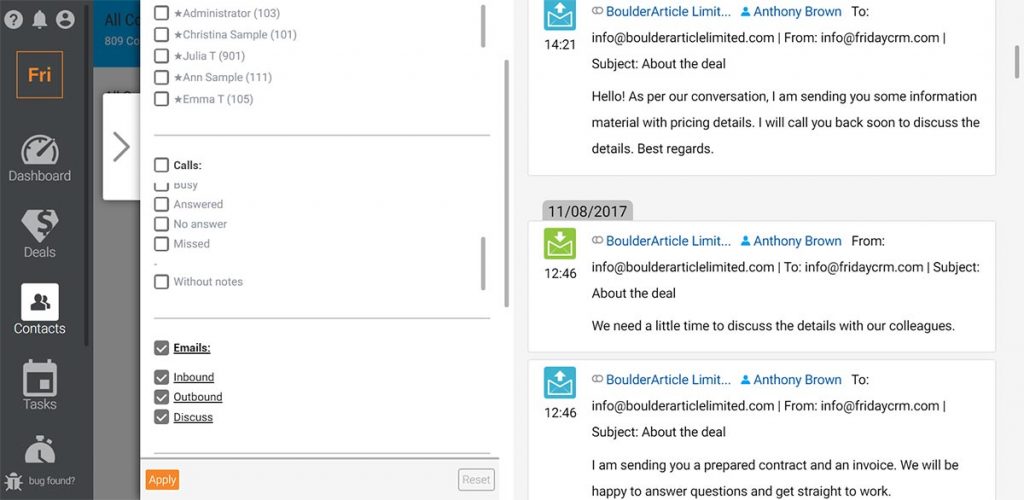 How to get emails on Friday CRM?
To get email right in your Friday CRM account, you need to integrate your account with Gmail. Afterward, you will get all emails that are imported and sent to you. The system will store them. Moreover, since all the emails have been attached to a specific deal or contact, it will be easier to monitor all your and your colleagues' correspondence.
Can I send emails on Friday CRM?
On Friday CRM you are able to send emails right to your account. Just click on a contact's email link and the Gmail interface that you are used to opens. In the field From choose one of the email addresses that you usually send from.
If you need to write a quick message, on a contact's or deal's profile click Email and compose your email.
Would you like to get started with this free tool?
It wouldn't take more than a minute. Just sign up on fridaycrm.com. Connect your Gmail account to Friday CRM and get all your inbound and outbound emails transferred.
You have learned that Friday CRM is a handy tool to manage your various email accounts. It will suit all small businesses from contacting companies to architecture firms. Just follow a few steps you have just read.