Free online contact management
Friday CRM is a free-of-charge contact management platform. Unlimited contacts for free.
Free cloud contact management
If you are in search of a totally free online contact management software that doesn't notify you constantly about the contact limit being reached and integrates with email marketing services, or if you need an all-in-one CRM or a database manager, Friday CRM will fit you perfectly. Friday CRM is a useful software, and it's well-equipped with all the essential sales tools.
What makes Friday CRM stand out among others? First of all, it's easier to increase your customer base with Friday CRM. For example, when you get a phone call from a new client, the system automatically stores a note about it. Afterwards, you can create a new contact, and the phone number is automatically added in its profile.
Then, the client communication is automated thanks to Gmail, G Site, and Mailchimp integration. That's why at any moment, you can look through the history in a customer profile.
Finally, due to sales tools, you always keep up with current deals or projects. Moreover, you are able to track them for the outset and analyze your sales cycle with the illustrative dashboard.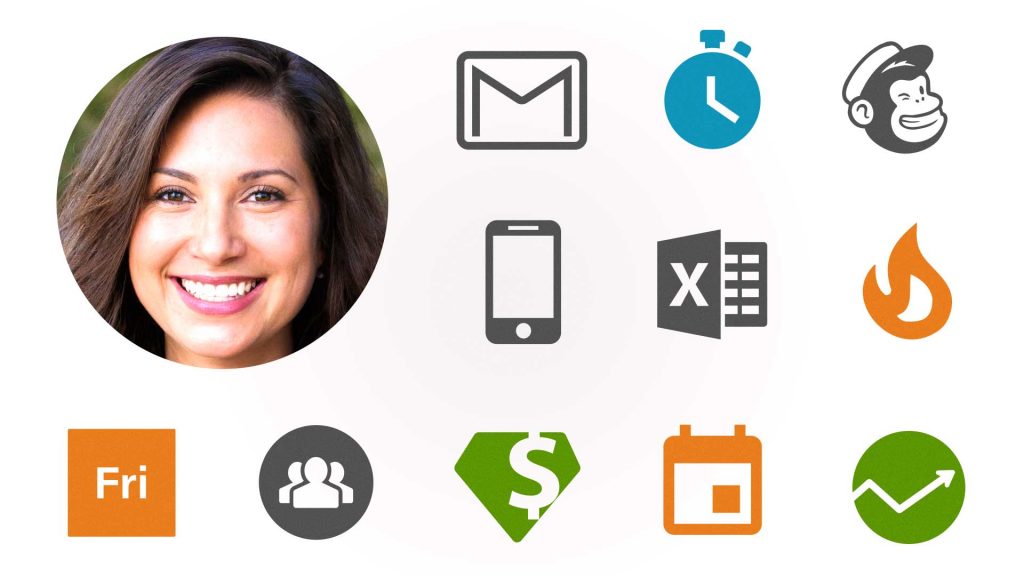 Basic Functions
Contact database
Unlimited number of contacts for free
Cloud-based technology
Mobile-friendly
Gmail/G Suite integration
Google Calendar integration
API connection
Mailchimp marketing
IP telephony integration
---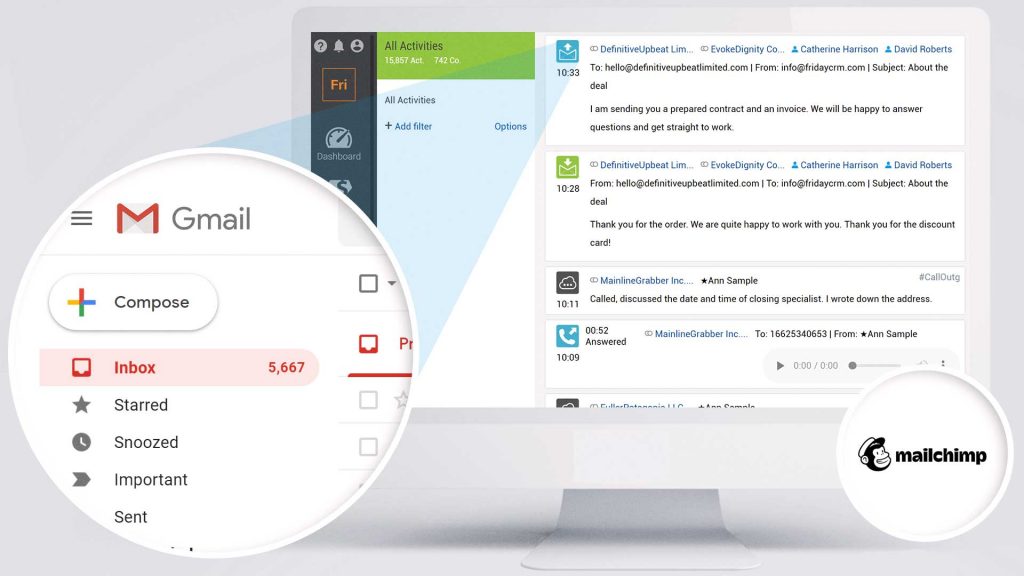 Free contact manager
Friday CRM includes a no-cost contact database. The built-in contact manager is totally free for 200 employees. Moreover, a client profile is customizable; thus, you are able to add as many additional fields as you need. Leads and clients can be easily delegated to employees. It is also possible to assign a contact to another manager. Additionally, as Friday CRM is mobile-friendly, you will always be informed about a current deal or project at any moment, wherever you are.
---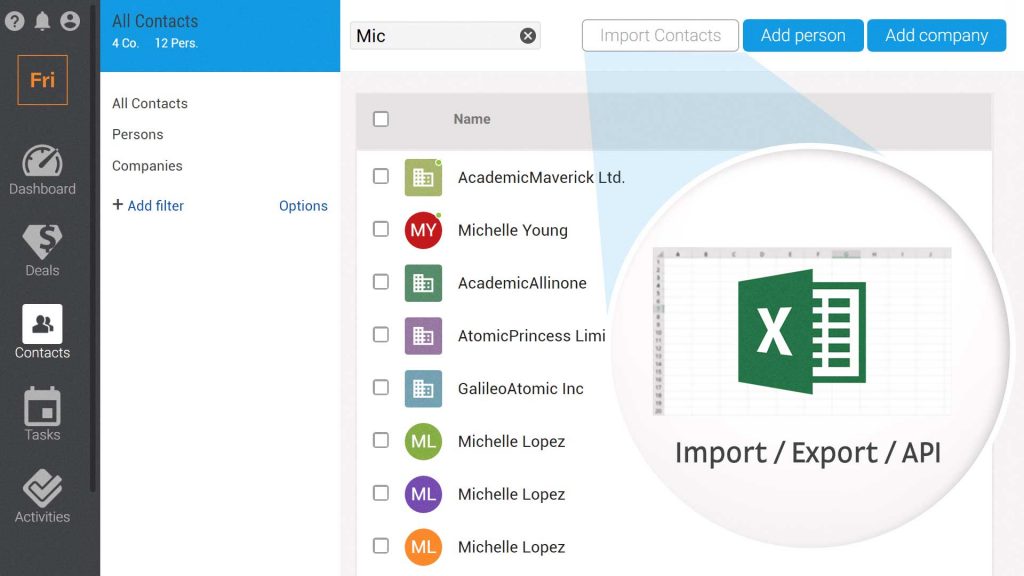 $0 for an all-in-one CRM
The cloud-based contact manager is only one of all Friday CRM's functions. You can reconstruct your own pipeline funnel and track your deals at every stage with ease. All sales activities, communication history, and system notes are automatically attached to a certain contact and a deal profile. A new employee will get a clear picture of a deal or a client portrait when they just open their profiles. Moreover, composing a new email and one-click calling are available right in the profile.
---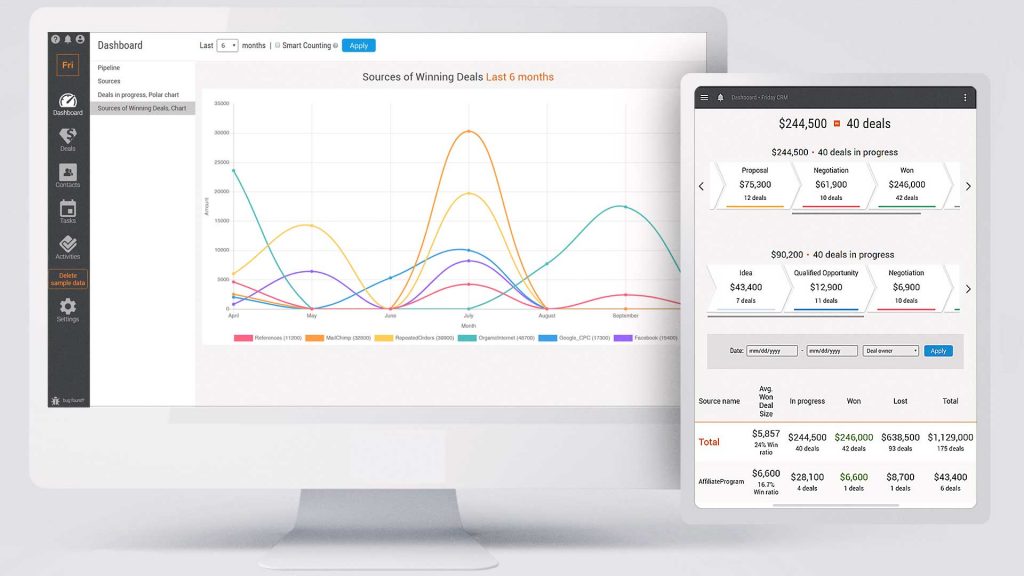 Free call center
The Friday CRM contact manager is not just a list of contacts and their details. It is a real call center. What does this mean? You're able to compose an email and send it to your customers right from the profiles. If your client sends a response letter, it will be automatically imported to the Friday CRM system and attached to deal and contact profiles. Thanks to Mailchimp integration, you can launch a marketing campaign and track it on Friday CRM Moreover, you can answer incoming calls and make outbound ones with one click. All the phone conversations are recorded and phone numbers are hidden for security safety.
---
If you are looking for a free contact manager, sign up for free and try it out yourself!
Join 3000+ companies that are already using Friday CRM contact manager