Settings -> General settings
The section allows configuration of the general system operation settings, for setting default time zone, language, date format, and time format, and to select the most convenient form of displaying digits.
Available settings:
Graphic symbols for currency used
List if emails for the Discuss function
Links to documents available for viewing in the Time Tracker to all employees (re: labor regulations)
Qualification URL (link to Google document)
The qualification URL is used to define Deal priority (Google Forms is often designated for this purpose). Qualification may include questions about the size of company, its business sector, primary objectives, etc. Learn more about qualification in the summary
Saved settings will be applied to all sections of the system. The dates of creating Deals and time of incoming/outgoing calls and messages will be displayed in the indicated format, according to the selected time zone.
Order amount on the Deal page and other numbers will be automatically converted to convenient (one of 6 possible) formats, e.g.: 1000,05 or 1,000.05.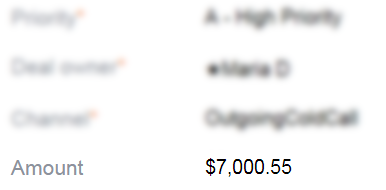 Indication of correct time zone is necessary to make adequate time requests from the base and to enter correct information into the base.
The default language is used in all sections of CRM.