How helpful is it to manage contacts in Gmail?
Everyday we work in Gmail, open its interface, but have no idea about some of its tricks and features. Right now you are going to learn how to get access to contacts in Gmail, group them and merge them. As a bonus, you will find out how to store contacts for business.
Where are my contacts?
If we open Gmail, the first question that dawns on you is 'Where can I find my contacts?'
Our contacts are available under the Apps Menu. When you click the icon of contacts, the new page with the list of contacts opens.

Duplication of contacts
When the same person writes you from different emails, the duplicates are created. When you open the contacts on Google, the system informs you about them. You have two options: Merge or Dismiss. After making sure that they are the same person you can merge two addresses together
Labelling
What if you need to sort different group of contacts?
Google allows you to create a label for a group of contacts. Then add a contact to a certain group labeled.
Are you planning to run a business or do you already?
Then use the free system Friday CRM designed to work with Gmail. It will bring order to your database and collect all correspondence history with the client.

Many Emails?
Does your client have a few email addresses? It is not a problem either. On Friday CRM you can add as many emails as you need
In addition, use any other fields that you would like.
Do you have a lot of contacts from one company?
You can link as many contacts to a company's profile as you want. As a result, you can collect all contacts in one place – the company's card.
Tagging contacts
Make a group of companies or contacts belonging to one category with tags. Name tags however you want.

Correspondence history
On Friday CRM monitor all your or your colleagues' correspondence in a company's or contact's profile. All events are stored by the system.
How to send emails?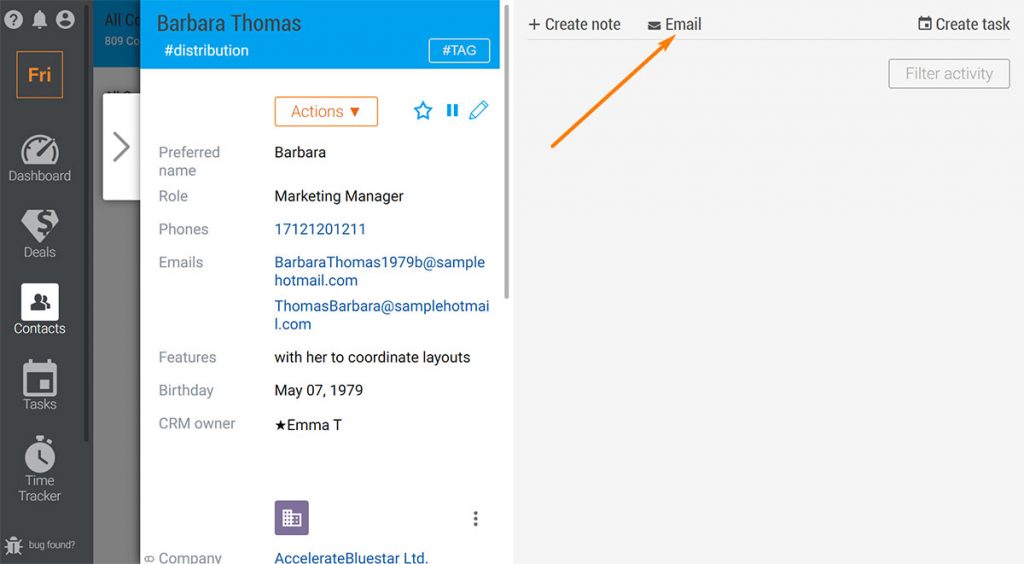 Send emails as you usually do on the Gmail Interface by clicking on an email link. Or you can also compose emails right on the contact's profile.
You have just read not only how to manage your contacts in Gmail but also an alternative way to work with them. If you сonnect your Gmail or several email accounts to Friday CRM, you can save time working with your favorite Gmail in any agency.