Important information is described in the summary of telephony features and operating principles.
7 steps to get connected
Register on Zadarma
Access the settings (Settings->API and integrations) in your personal account for the telephony service (see image below)
Click on the link to receive keys in the authorization key block (see image below)
The telephony service will send you an email message with keys. Check your email.
The keys should be entered on the Friday CRM page (Settings->Integration with telephony -> key and password), press Save. (see image below). If everything is done correctly, the CRM system will notify that the connection has been established. Otherwise, the system message of connection error will appear (check accuracy of parameters entered).
Next, copy down the link to your account with Friday CRM in the telephony service.
If the PBX is used, it then is necessary to indicate in Friday CRM the extension numbers of employees/users (so that the calls can be made by clicking on the phone number), detailed information is given below.

How to start receiving and making calls. It depends on the telephony alternative selected (redirecting, PBX, etc.). Learn more in the help section. Consulting and technical support of the telephony service is provided by means of online chat and by phone.
Providing the telephony service with the link to your Friday CRM account (Step 6)
To activate push notifications with information about calling subscriber.
Step 6A. it is necessary to copy the link for receiving notifications (unique for every account) on the Friday CRM page (Settings->Integration with telephony) (image below).
Step 6B. Access the settings in the personal account of the telephony service (Settings->API and integrations) and paste this link in the Link to your website field, press Update (image below).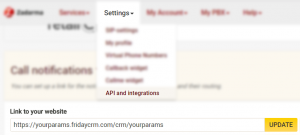 After the settings are completed, calls will be automatically displayed in sections Contacts, Deals, Activities, and will be available for viewing and filtering.

Entering employees' extension phone numbers (Step 7)
When a company has several employees and everyone has his/her own extension phone number, then the PBX is used (telephony service option).

In this case, for the purpose of integration, it is necessary to enter a three-digit extension telephony number of every user in Friday CRM.
It will allow you to dial numbers from CRM and find users participated in conversation.
Settings -> Users -> User -> IP phone -> Enter extension PBX number (three digits)