Online CRM
Friday CRM is a free, cloud-based CRM platform, suitable for any small business or midsize organization. No need to install anymore apps.
Web-Based, Fast-Loading CRM
Desktop CRMs slowing down your computer or cause error messages? Your PC freezes or crashing from time to time? You can't hear yourself over the whirring hard drive? To extend your computer's lifespan, you should check out online CRMs. They can load very fast in any browser. Additionally, all of them are mobile responsive; thus, users are able to track deals from anywhere without access to a desktop computer.
However, choosing an ideal online CRM is challenging. Nagging popups or various gotchas can slow down your work. Instead of bringing clients, leads, and deals, they bring headaches.
This is where Friday CRM comes in. No popups or gotchas. No crashes or errors. No noisy hard drive or laptop fan. The Friday CRM interface includes all the essential functions. You can make calls right from the CRM and create emails there, integrate your account with Gmail, track your Mailchimp marketing in the Friday CRM interface, and monitor team productivity. Friday CRM is not just a CRM. It's a scheduler, a task manager, a planner, and a contact center.
If you sign up right now, you will be able to use Friday CRM now and forever for free. However, bear in mind this is only for a limited time! Just be sure to create your permanently free account soon.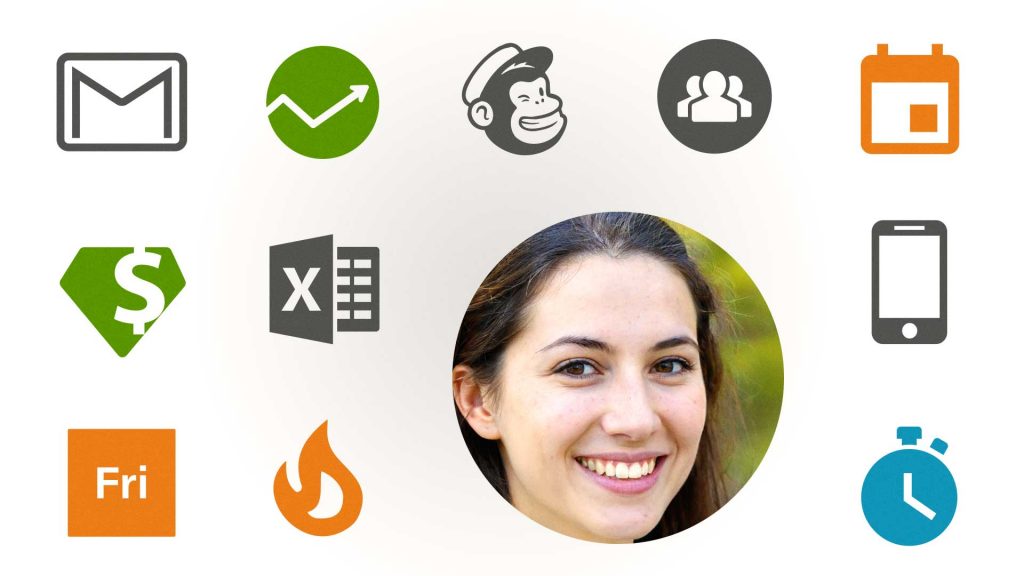 Basic Features
Contact database
Web-based CRM
Team time & productivity tracker
Free mobile version
Gmail/G Suite integration
Google Calendar integration
API
Sales funnel management
IP telephony
---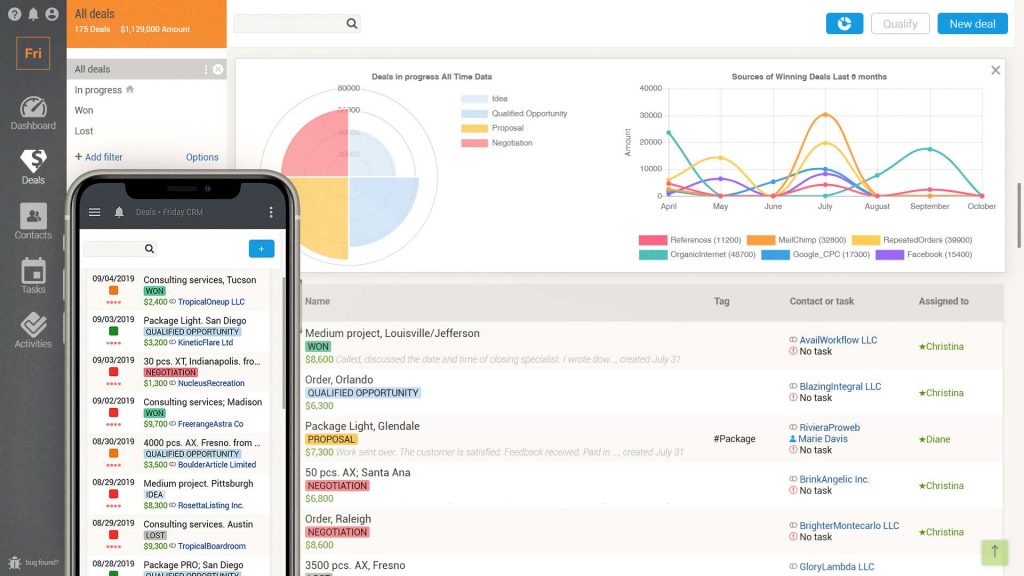 Reliable
No crashes
No errors
Never freeze
Minimum system requirements
Fast-loading CRM
Optimized for all browsers
Mobile responsive
---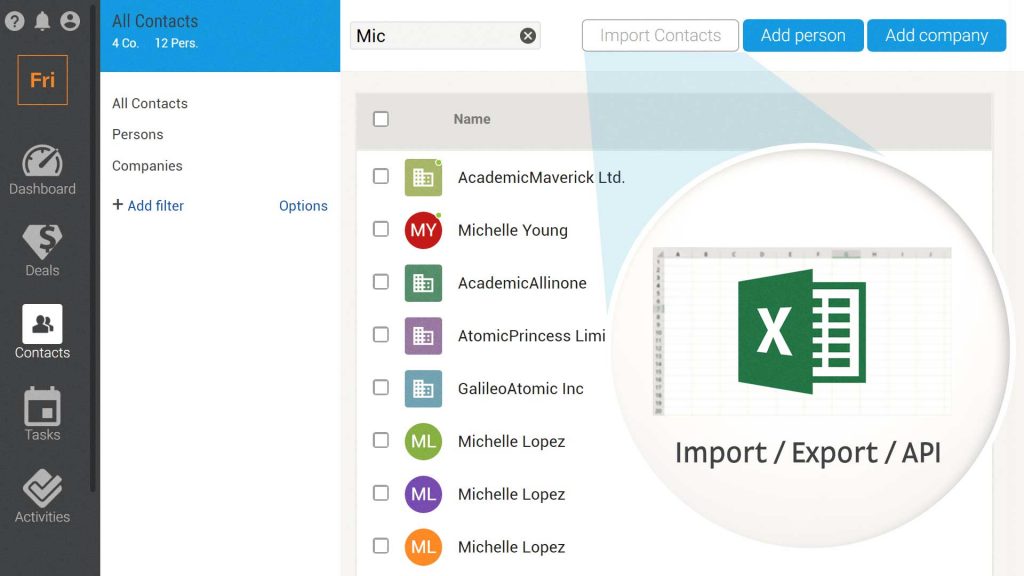 Free All-in-One CRM
Call with only one click whenever you wish
Create as many contacts as you want
Compose as many emails as you'd like
Set a limitless number of tasks
Create a limitless number of deals
No limit or restriction pop-ups
Export and import data
Smooth client distribution
Simple lead qualification
---
Fully Flexible
Integrate with Gmail/GSuite and manage its settings
Create your sales funnels
Add additional custom contact/deals properties
Tailor a productivity tracker for your team
Configure user access control and permissions
Set task visibility
---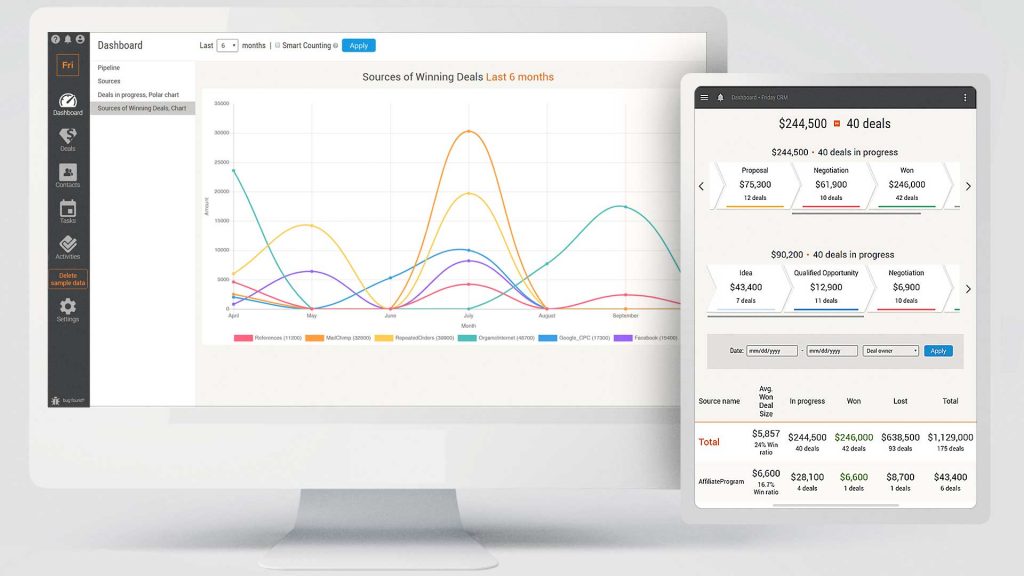 Built-in Contact Center
Send emails right from a profile
Receive mail right in the CRM
Make calls and answer them
Calls recording
Mailchimp integration
Monitor Mailchimp marketing campaigns
---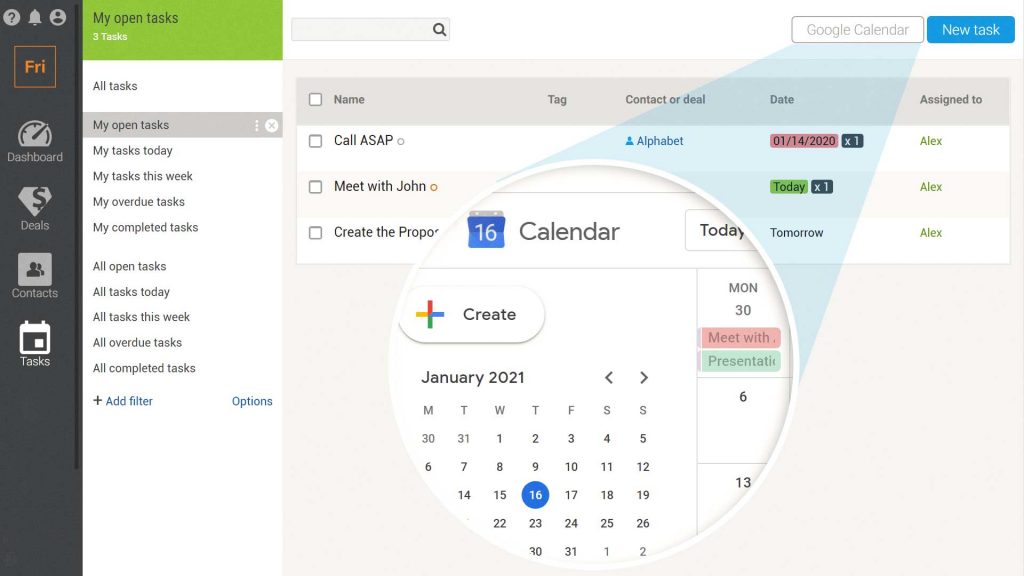 Planner and Scheduler
Google Calendar synchronization
Create and schedule tasks
Leave comments in task profiles
Delegate tasks
Link tasks to a certain deal or a contact
Get notifications and reminders about a new task
---
If you need a fast-loading CRM that will never slow down work in your company, sign up for free right now and work with Friday CRM smoothly.
Join 3000+ companies that are already enjoying the fast-loading Friday CRM