Free CRM for B2B
Friday CRM is an ideal CRM for B2B and complex sales. Use it to convert your leads into sales. Automate your workflow and keep your contact details on the cloud-based platform. And what's sure to leave you smiling is that Friday CRM is completely free-of-charge.
Free CRM for B2B
Friday CRM is the right CRM software for B2B segment, absolutely free. Businesses that have commercial relationship to maintain must face many challenges. The most vital of them is effective sales prospecting. You have to find good-fit customers for your business, then lead them through your pipeline funnel to convert them into revenue-generating clients. To move them from consideration to purchase, a business has to follow the principle of seven touches or launch a marketing campaign. There are some basic requirements for a B2B CRM to keep everything in check — interaction history, notes, invoices, integration with communication tools such as email and IP telephony, and marketing services.
Moreover, Friday CRM has a simple-to-use dashboard to keep up with current deals. Thanks to its API, you can set up importation of inquiries from your website or landing page into the CRM. Additionally, the source or the channel of a lead is always displayed in the profile; thus, you will be able to select the most 'prolific' source of customers. Finally, Email Marketing Campaigns are also possible to track here from the Friday CRM account. If any of your prospects opens the link in the chain email, you the system will notify you in the deal profile.
Friday CRM is totally free for the first 200 new users. Sing up for free now.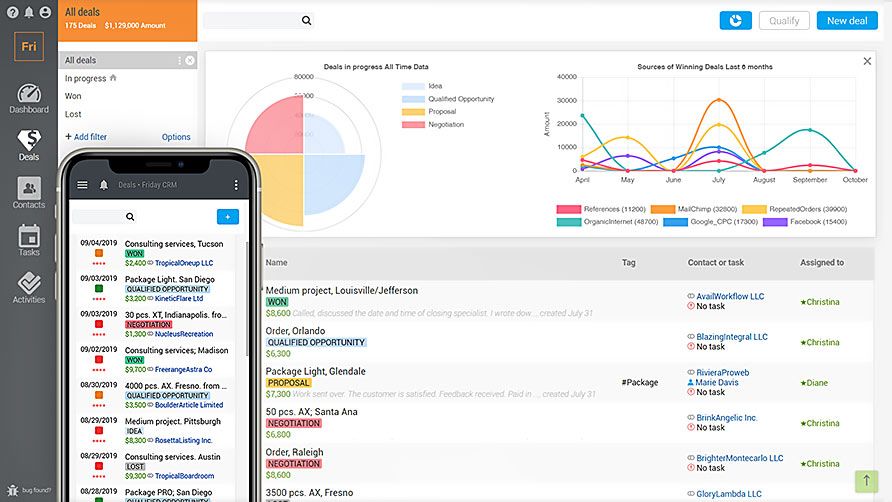 Basic Functions
Sales pipeline
Client database
Cloud-based platform
IP telephony integration
Gmail and G Suite integration
API connection
Employee time & productivity tracker
Mobile friendly
---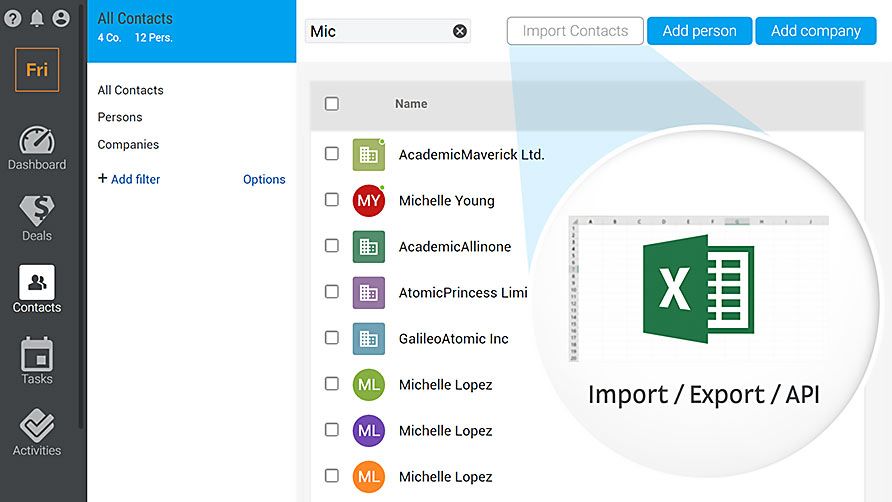 Free All-in-One CRM with no Limitations
Unlimited number of contacts
Unlimited number of deals
Call your clients with one click whenever you want
Create as many emails as you wish
Data importing and exporting
No notifications about limits being reached
---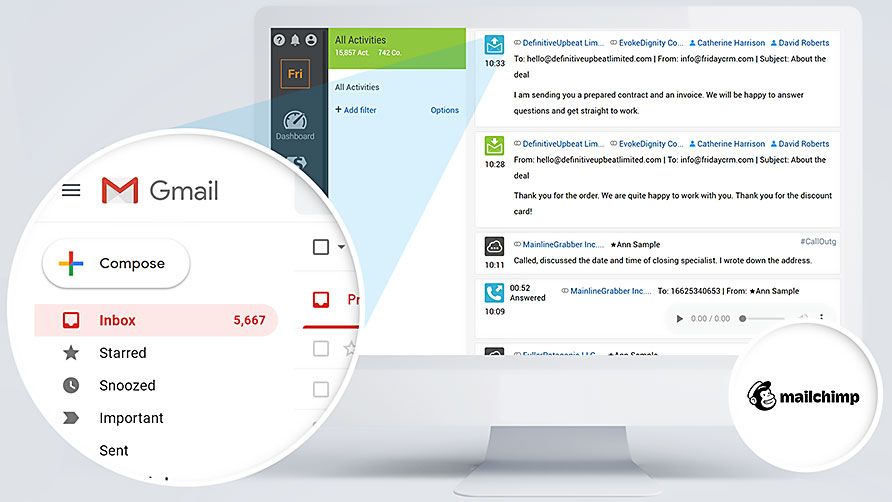 Fully Customizable
Custom fields in deal or contact profiles
Tailor Gmail/GSuite settings
Sales funnel management
User access rights settings
Set up a personnel productivity tracker
---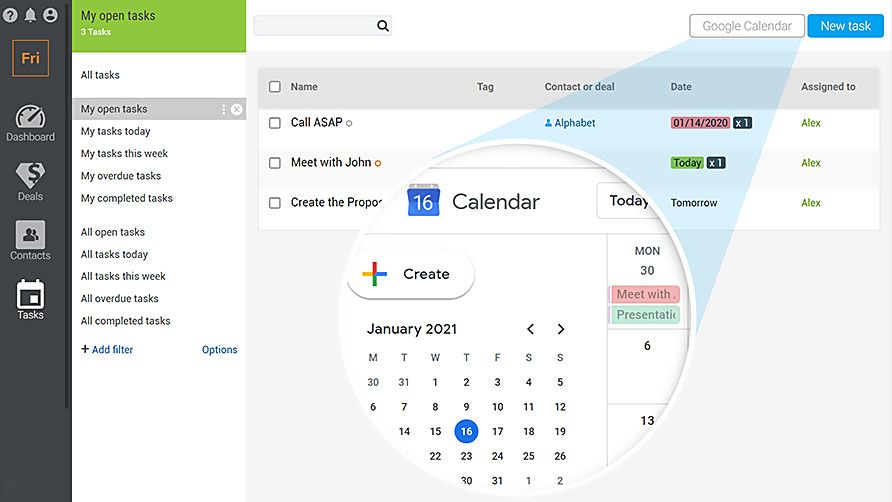 Free Contact Center
Send emails right from a profile
Track response letters right in the CRM
Mailchimp integration
Track email marketing campaigns
Answer incoming calls
Just one click to make an outbound call
Call recording
Phone numbers hidden for safety security
Phone numbers hidden for security
---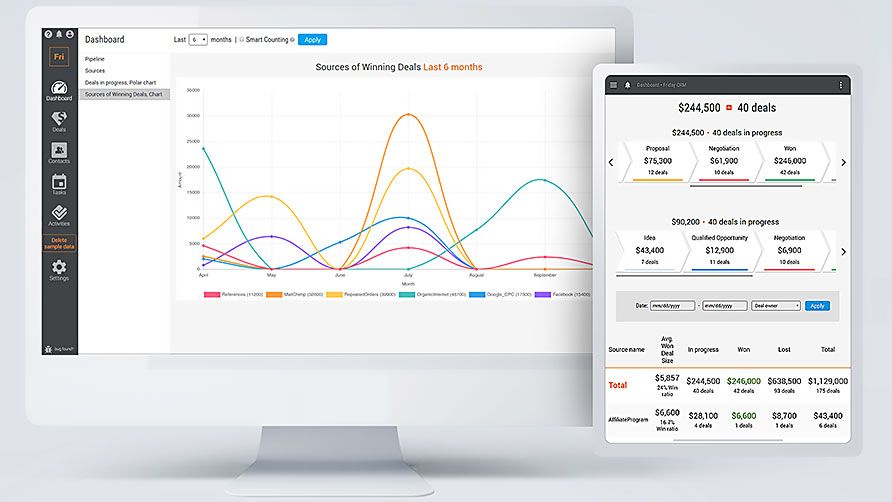 Reports
Sales reporting tools in TimeTracker
Daily employee reports
User-friendly dashboard
Lead source and channel analysis
Interaction history in deal or contact profiles
---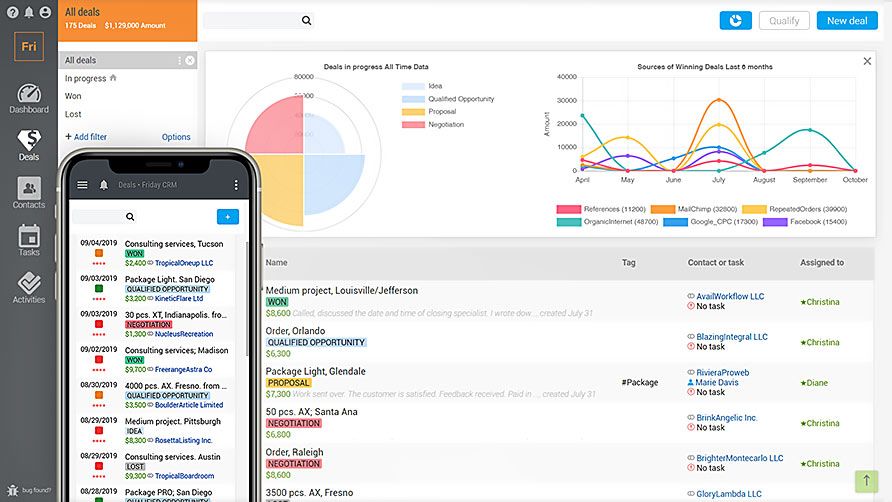 More Than Just a CRM
Funnel view
Smooth client distribution
Delegate tasks and set their visibility
Calendar & tasks management
Mailchimp interaction tracking
---
If you are looking for a free CRM for your B2B company, sign up for free now and keep your finger on the pulse with Friday CRM.
Join 3000+ B2B companies that are already working in Friday CRM