Free Cloud CRM
Friday CRM is a free cloud CRM that will work well for any small business organization. No need to set up appts anymore and customer data is always at hand.
Free Cloud CRM for Small Business
When starting out in a small business, there are a lot of tasks to handle: track sales and current deals, organize deals, manage customer relationships, answer calls and emails. Tackling them without any tools to help you is problematic. That is why a CRM is so valuable for small businesses. To let each sales rep access your contact database, you need to use cloud CRMs. All the data is in the cloud. Any team member is able to open a contact or deal profile quickly from a laptop or a smartphone anywhere.
Friday CRM is a CRM without any gotchas or popups. With aFriday CRM account, you can organize your data, integrate it with other Gmail and Google Calendar, monitor sales activities, set up a sales pipeline, and get an overview of deals that are won or lost. Moreover, it won't cost you an arm and a leg. It's free-of-charge.
Don't miss out on the chance to use Friday CRM for free now and forever. Sign up right now. However, this offer is only available for a limited time! Get a permanently free account right now.
Essential Features
Contact management
Free cloud CRM
Mobile responsive
API
Personnel time & productivity tracker
Google Calendar integration
Integration with Gmail and GSuite
Funnel overview
IP telephony
---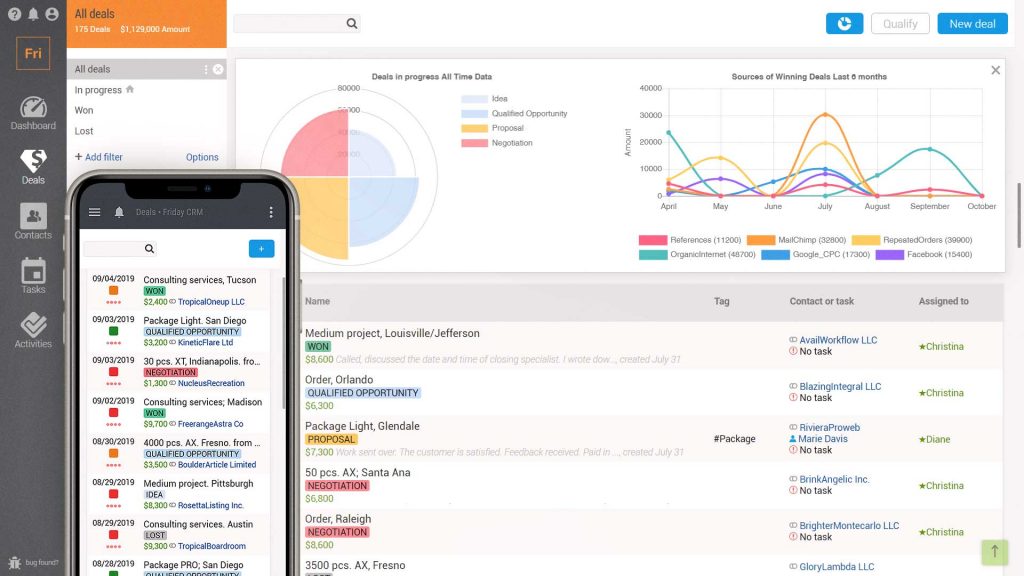 100 % Free All-in-One CRM
Simple lead qualification
Call with one click
Limitless number of tasks
No nagging notifications
No data caps
Export and import data
---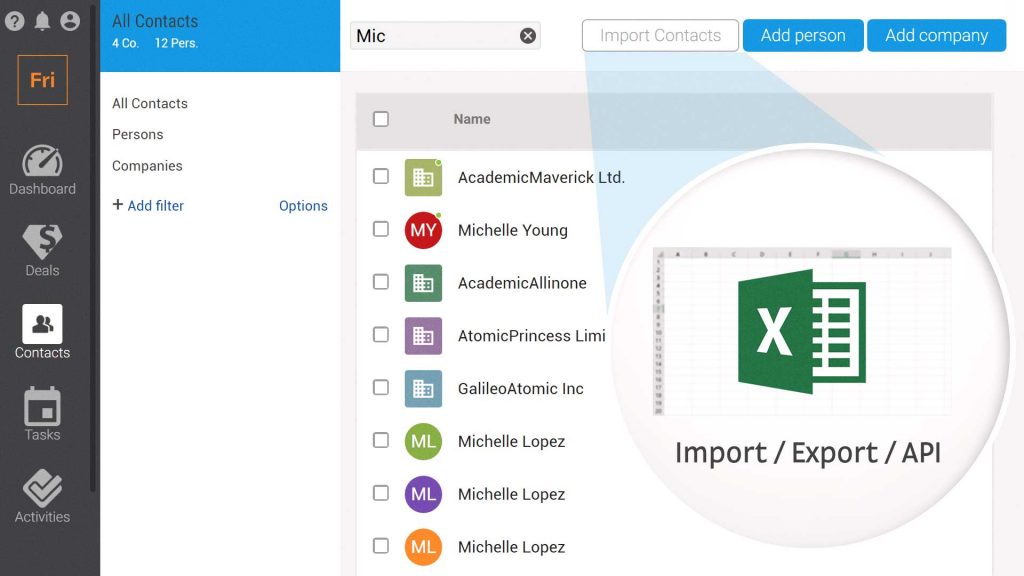 Small Business CRM Sales Tools
Total contact interaction tracking
Deal/client/activity filters
Funnel analysis
Easy-to-use dashboard
Track projects from the beginning
Sales activity management
Personal collaboration
Sales rep productivity tracker
---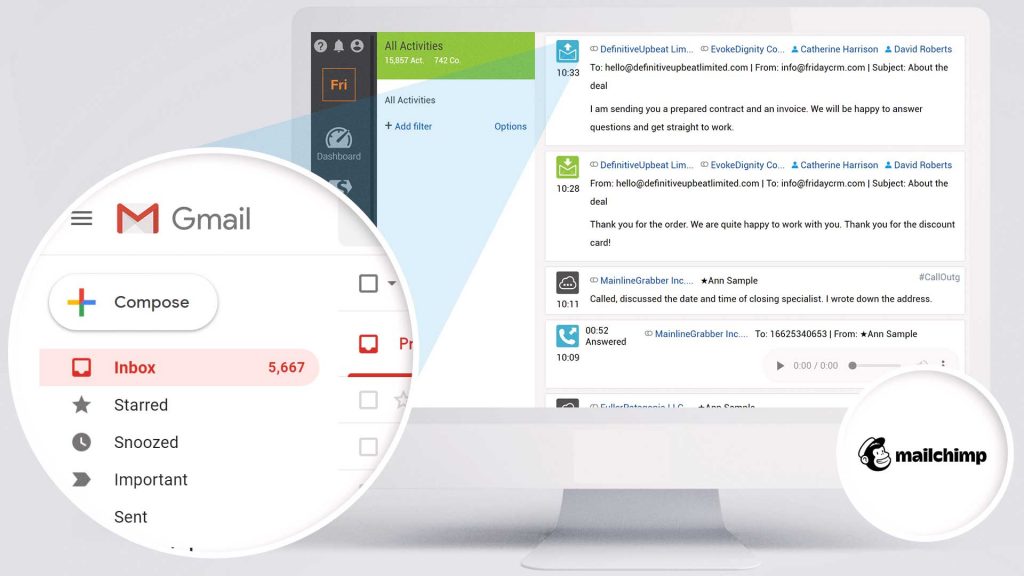 Customizable
Build your sales pipelines
Set task visibility
Smooth customer distribution
Add custom fields
Integrate with Gmail/GSuite/Google Calendar
Configure user access control and permissions
Set a team productivity tracker
---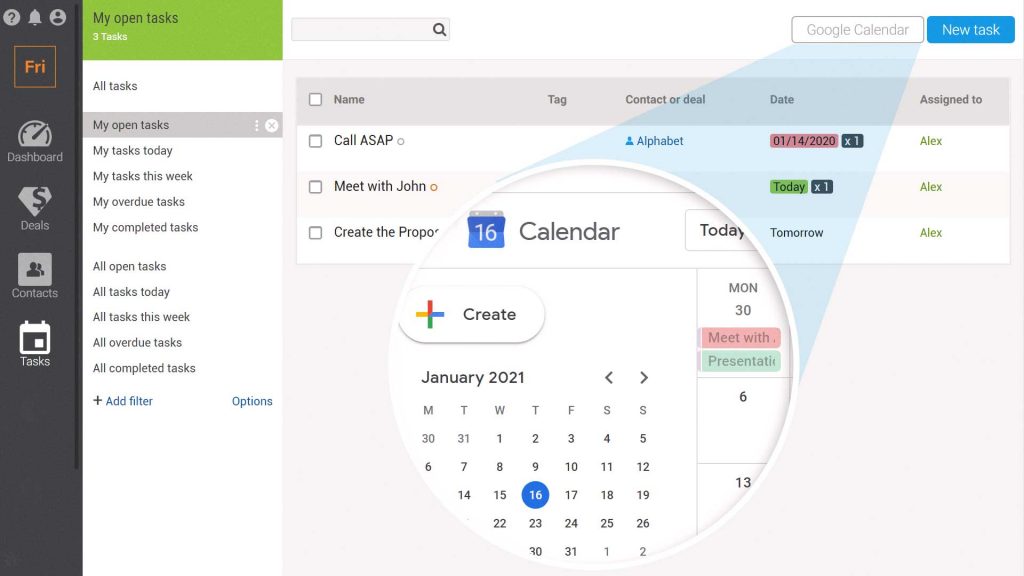 Built-in Contact Center
IP telephony
Call with one click
Call recording
Answer calls
Send emails right from a profile
Track Mailchimp marketing campaigns
---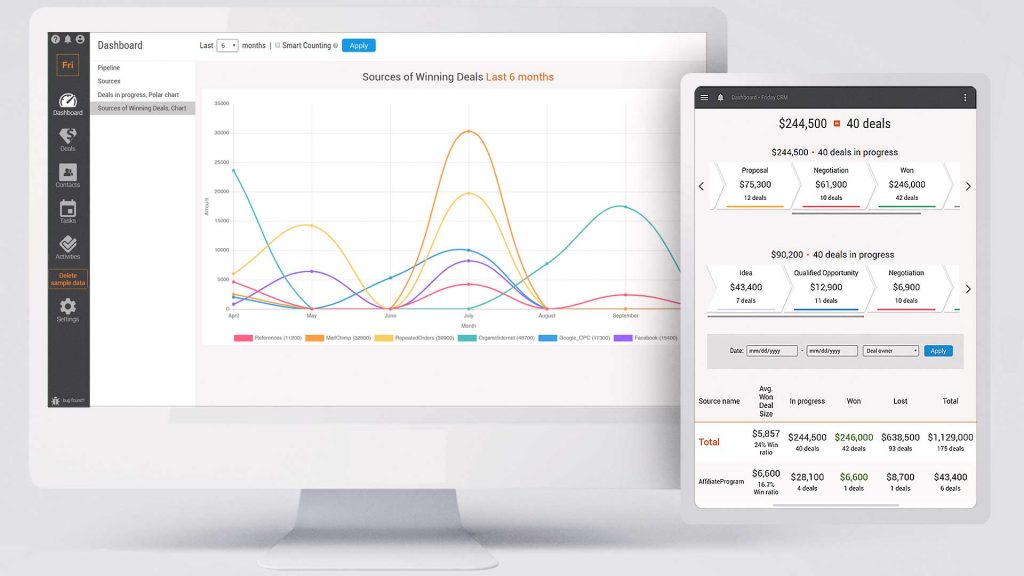 It is not just a CRM
Google Calendar synchronization
Create tasks in a certain deal or a contact profile
Schedule tasks
Leave comments in task profiles
Receive new task notifications and reminders
Delegate tasks with ease
---
If you are looking for a tool that will help handle your daily tasks, sign up for Friday CRM right now. With it, your business will thrive, and Friday CRM won't cost you anything.
Join +3000 companies that have already started working with Friday CRM